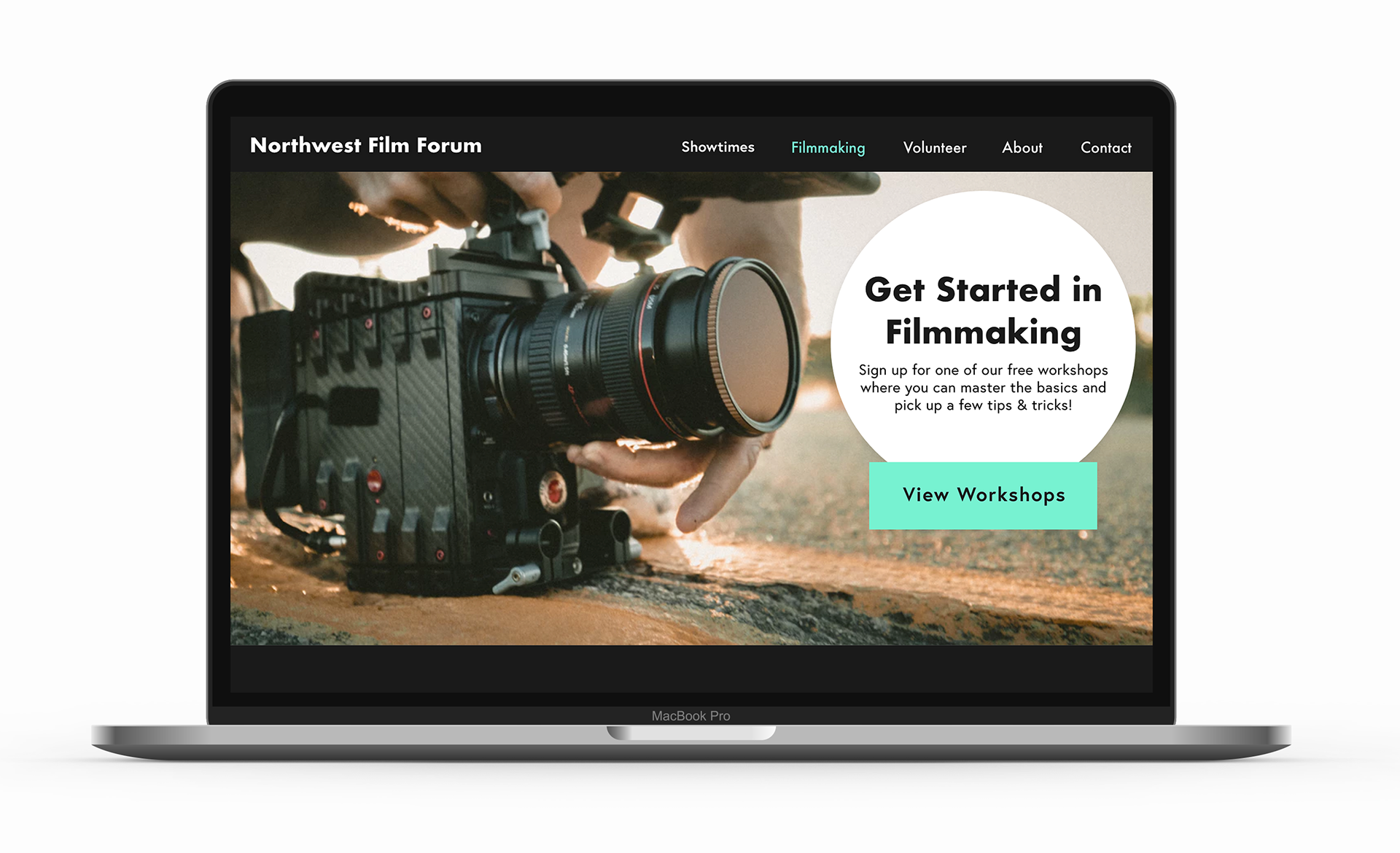 I worked with a team of three other people to evaluate and redesign a section of the Northwest Film Forum's website.

‍The business goal: Increase traffic to the filmmaking page.

Our user goals: Want to learn how to get started in filmmaking, connect with others interested in filmmaking, and have access to free or affordable resources and filming equipment.
Role:
UX Content Strategist
​​​​​​​
Project Type:
Team project for Advanced Content Strategy graduate course
I interviewed four people who fit our user group to figure out what kind of filmmaking content and resources they would be looking for online.

What motivates you to go online to learn about film?
"The resources are limitless. I can also get inspiration from other people's work."
What kind of filmmaking information are you looking for?
‍
"I want to find the cheapest editing software and free apps I can use for editing."
What resources do filmmakers and aspiring filmmakers need?
‍"A community and network of like-minded people in the same industry. Professional goals are important too."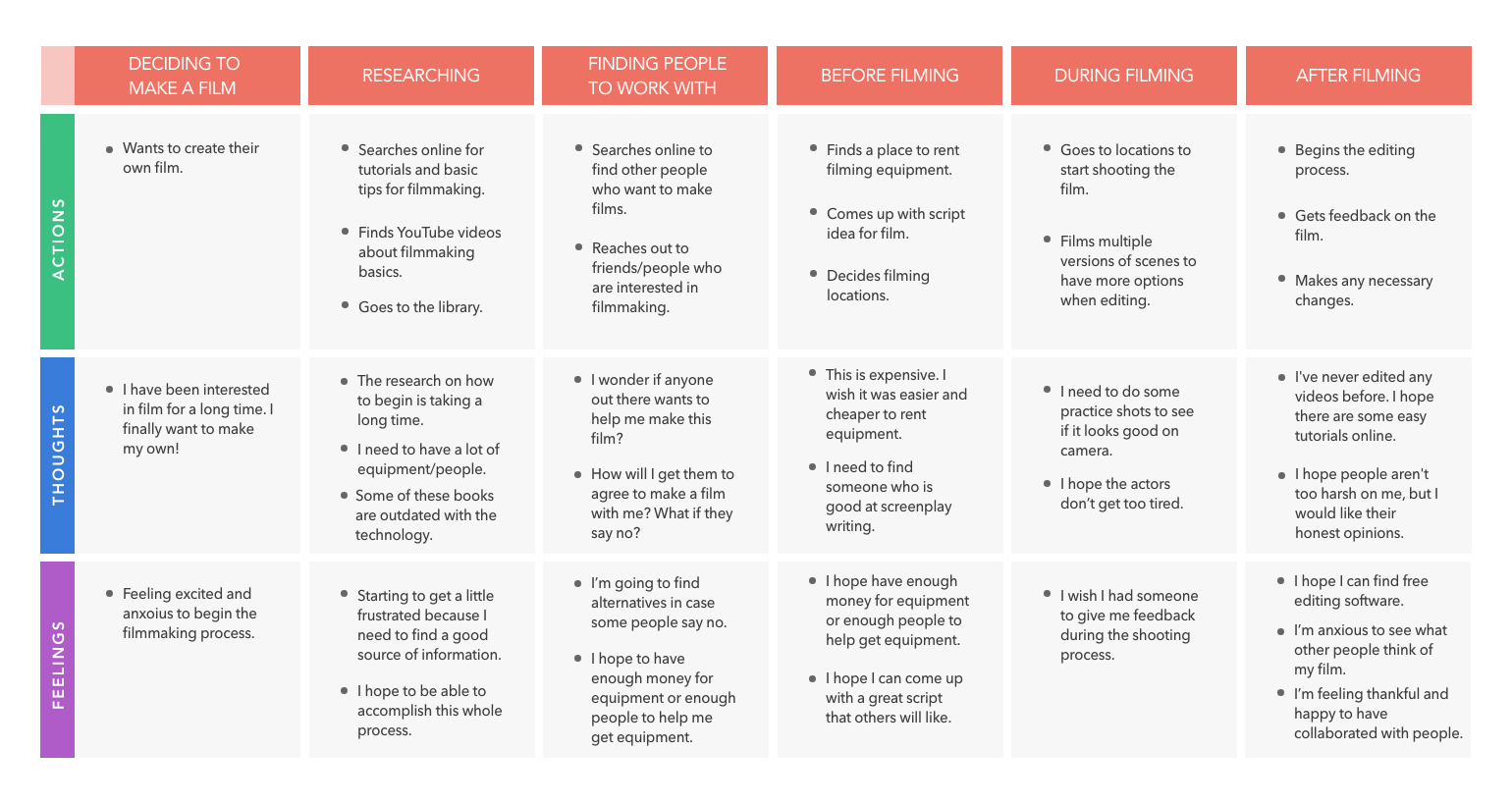 Opportunities for improvement
‍‍
Online resources could be easier to locate. The user could feel really overwhelmed at certain parts because there is so much information to learn and they might not have enough time to search through everything on the internet.

Some resources could be providing the user information on who to contact and a simplified database of information about filmmaking, so the user can find everything they need in one place.
- Access to filming equipment
- The opportunity to collaborate with other people
Solution
‍By creating an online community of people who are interested in filmmaking, the user can feel more confident getting started as a filmmaker.
Our goal with the content audit was to determine the effectiveness of the Filmmaking section of NWFF's website by using the following criteria: Is it up to date? Is it findable? Does it use clear language? Is it scannable and readable?

From the results, my team and I determined the following: 
-
22% 
of the content is 
outdated with many broken links
 and workshops/events that have already passed.
-
35%
 of the content is 
difficult to find
—the user has to click through two or more links before reaching the intended content.
-
36%
 of the content is 
hard to understand
 due to pages being text heavy with some typos and long sentences.
-
39%
 of the content is 
not scannable or readable
 due to issues with font size, light text colors against dark backgrounds, and small images.
I created two different wireframe versions of desktop and mobile, based on insight from our user research.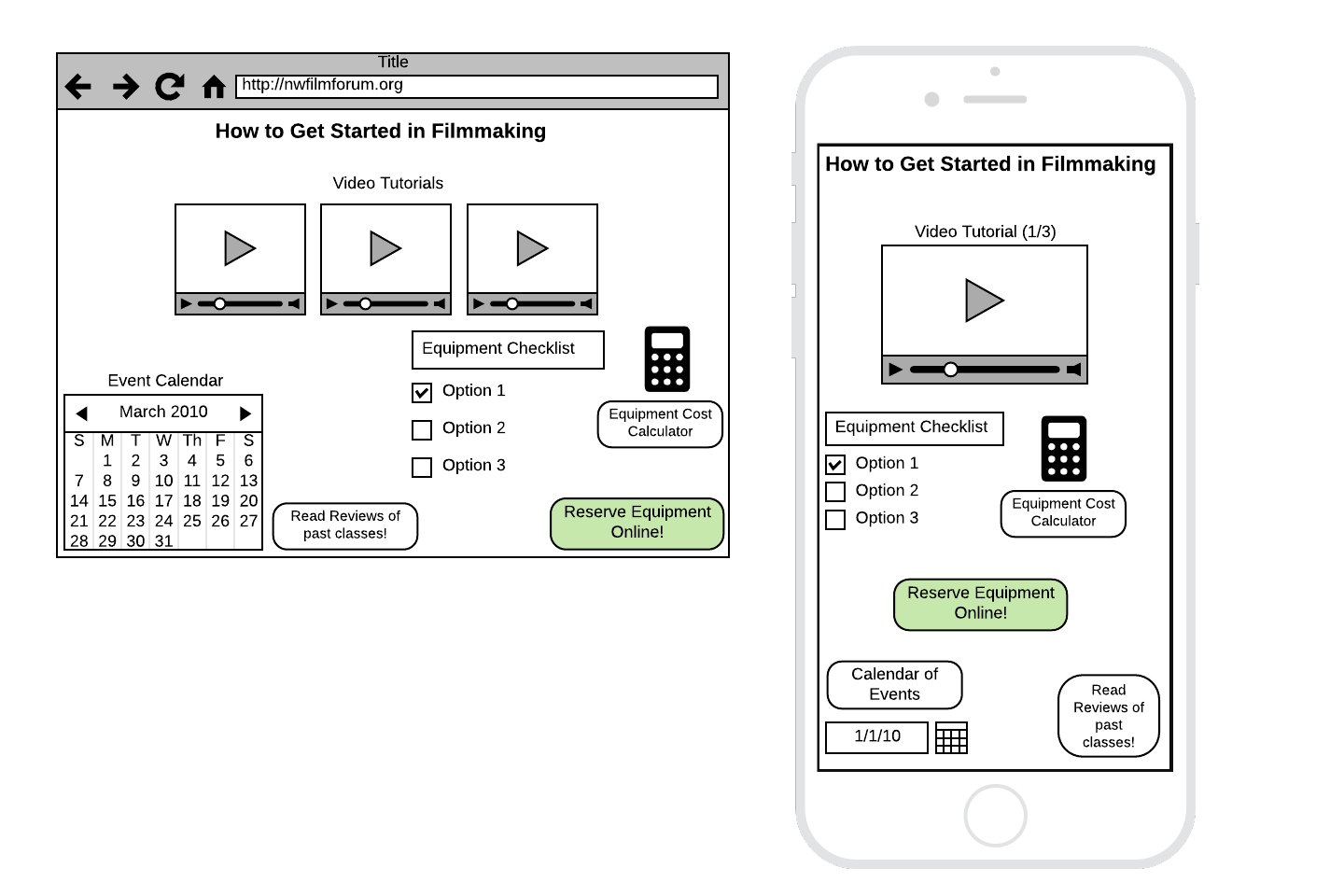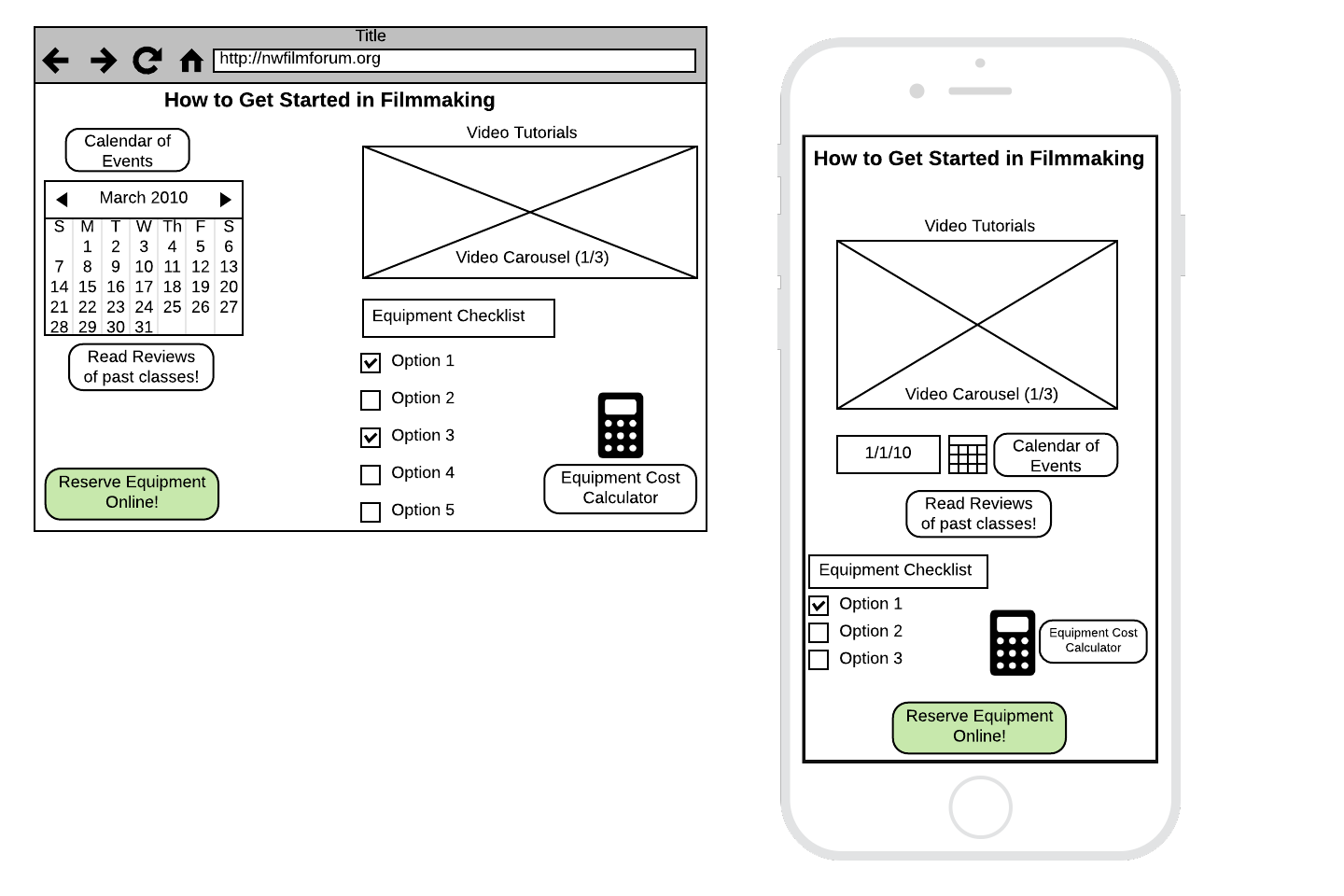 Hi-Fi Wireframes - Filmmaking Landing Page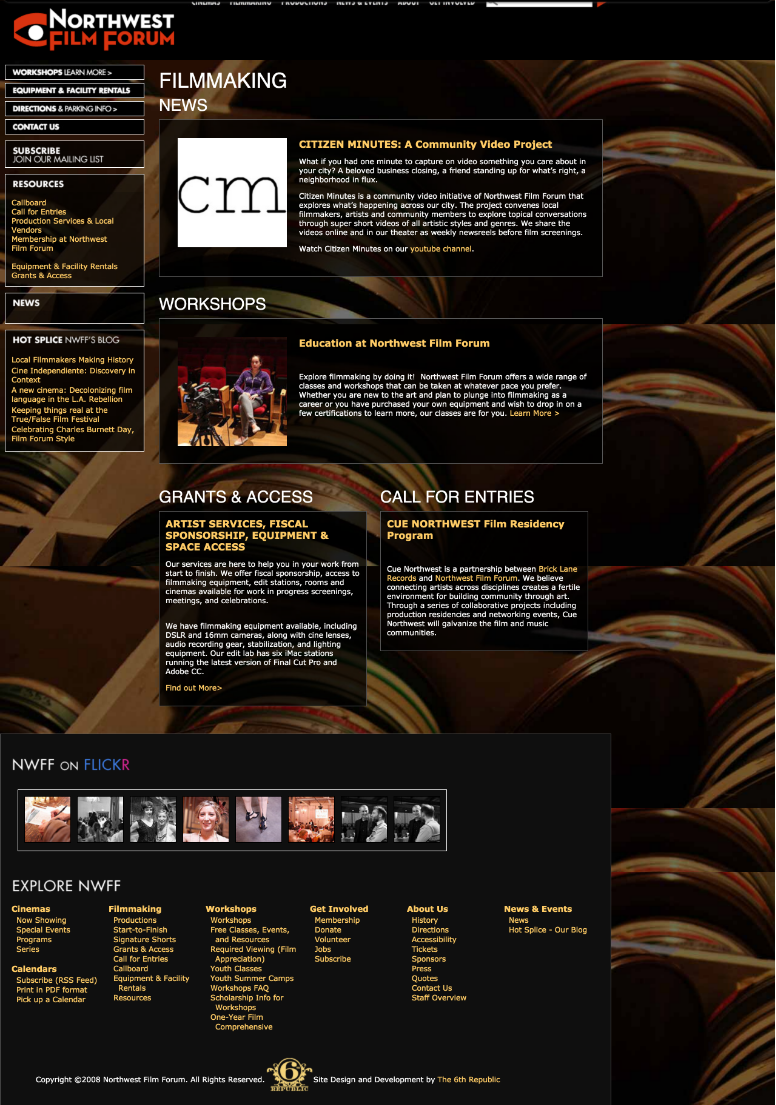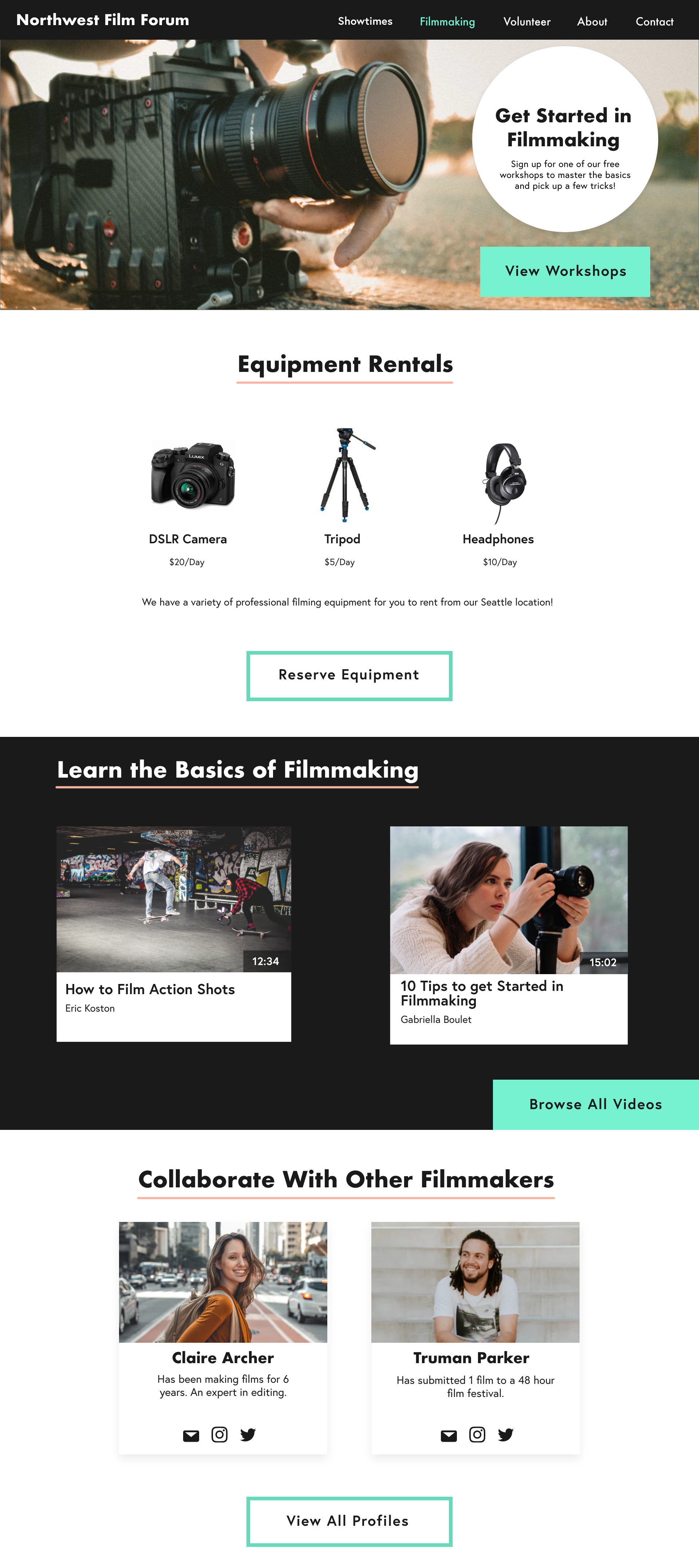 Since this was a class project, there was no budget and not much time to complete everything. My team and I made sure to work as efficiently as we could by assigning each person tasks to be responsible for. We had multiple check points as a group where we came together and shared notes on what we had completed, and incorporated them into our final project presentation. We were able to help each other out if someone got stuck, and see the different outcomes of our research.

After conducting user research to learn more about the audience for Northwest Film Forum, I created an updated landing page for the filmmaking section. By creating a minimal color palette and focusing on the content, users will be much more likely to achieve their goals of understanding the basics of filmmaking and having access to affordable and free resources.