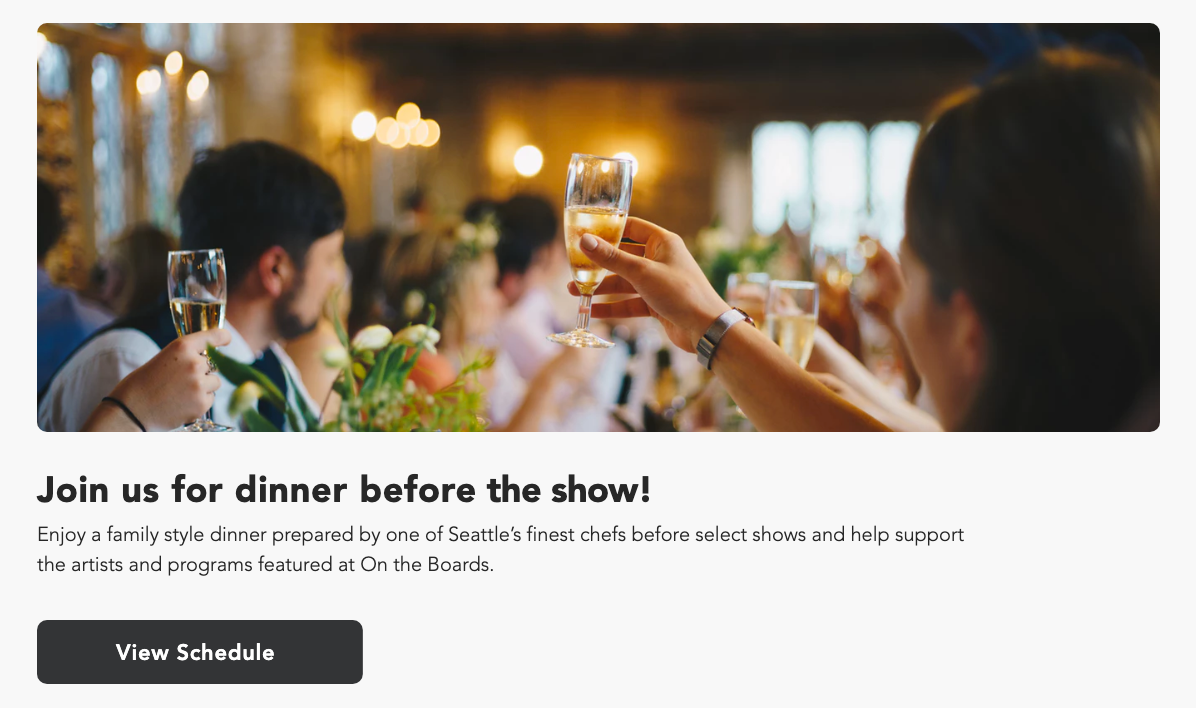 I redesigned the information architecture for On the Boards, and focused on the Studio Suppers event page to help users learn more about performances and purchase tickets online.



Business goal:

Increase online ticket sales.
‍


My goal:

Improve the information architecture and content design to make it easier for users to learn about performances and buy tickets online.
Role:
UX Content Strategist
Project type:
Individual project for graduate course​​​​​​​
User Persona - Subscribers

The subscribers are a group of people who have bought a package of tickets to performances held at On the Boards for the season.They love to spread the word about performances and events by inviting their friends and family, and they belong to many communities and groups.
‍‍

I interviewed a few people who were similar to the user group and asked questions about their experience buying tickets to concerts/events/performances online. I also asked about the likeliness that they would share an event with their friends.
Main learnings
- Buying tickets online can be a stressful experience if there is a limited quantity of tickets - they might sell out quickly.

- Might have to use multiple browsers in case one takes too long to load.
- Would only tell their friends if they knew their friends liked the artist or had an interest in the event/performance.
- If they were planning to go to an event by themselves, they would share the event on Facebook to see if anyone
  else wanted to join.
Journey to Buying Tickets Online

As I outlined the user journey to buying tickets online, I noted some problems and mapped out some opportunities.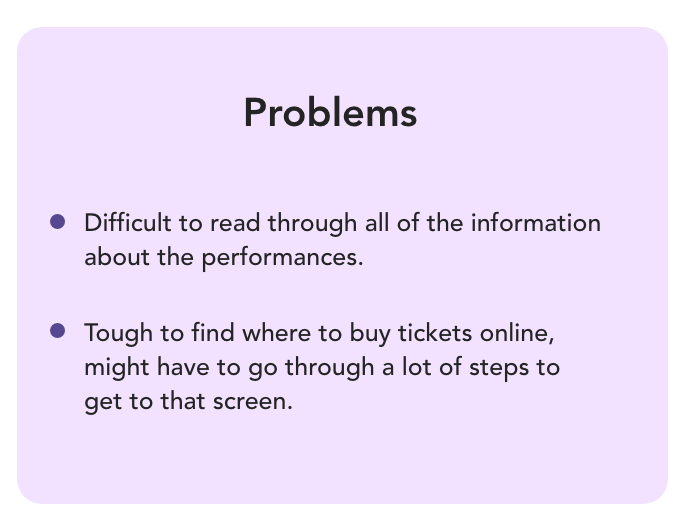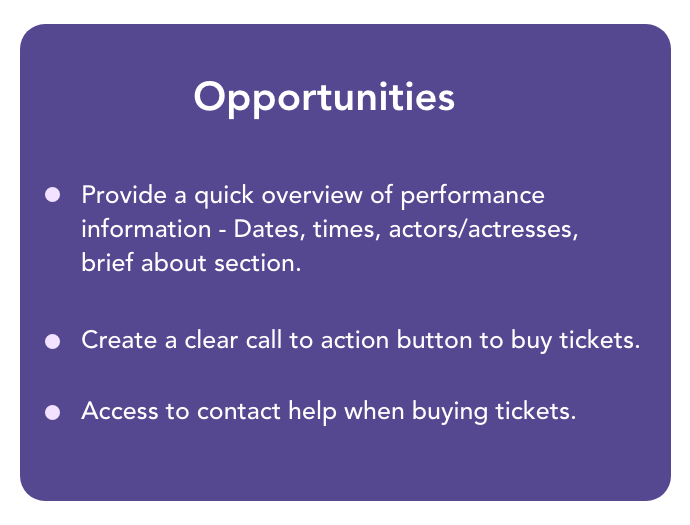 I used
Ahava Leibtag's content checklist
to audit 56 pages of On the Boards. I audited each page by seeing if it met the requirements for each of these metrics: Findable, Readable, Understandable, Actionable, and Shareable. 
After completing the content audit, I discovered that many of the pages needed updating to be aligned with the checklist.
Below are the areas I will be focusing on, taken from Ahava's checklist: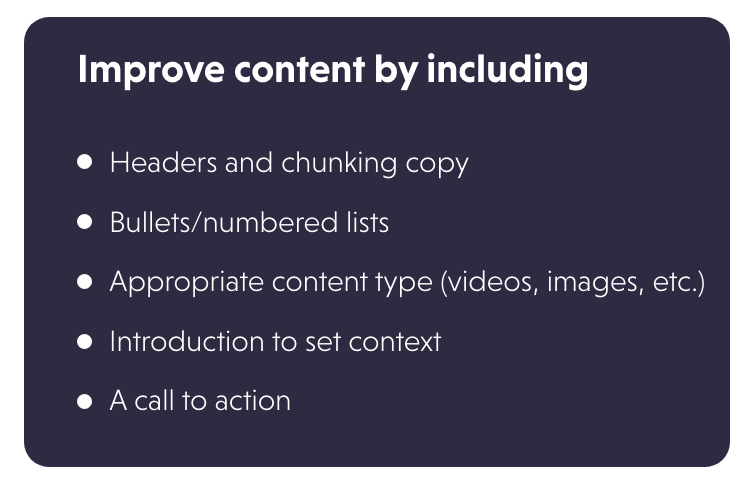 To support the needs of the subscribers, the voice and tone on the site should be
straightforward
and
friendly
. They like to feel like they are part of the community so a friendly, welcoming tone will help them feel that when they are on the site. A straightforward voice helps users get straight to the information they need in order to achieve their goals of learning about performances and making reservations to special events online.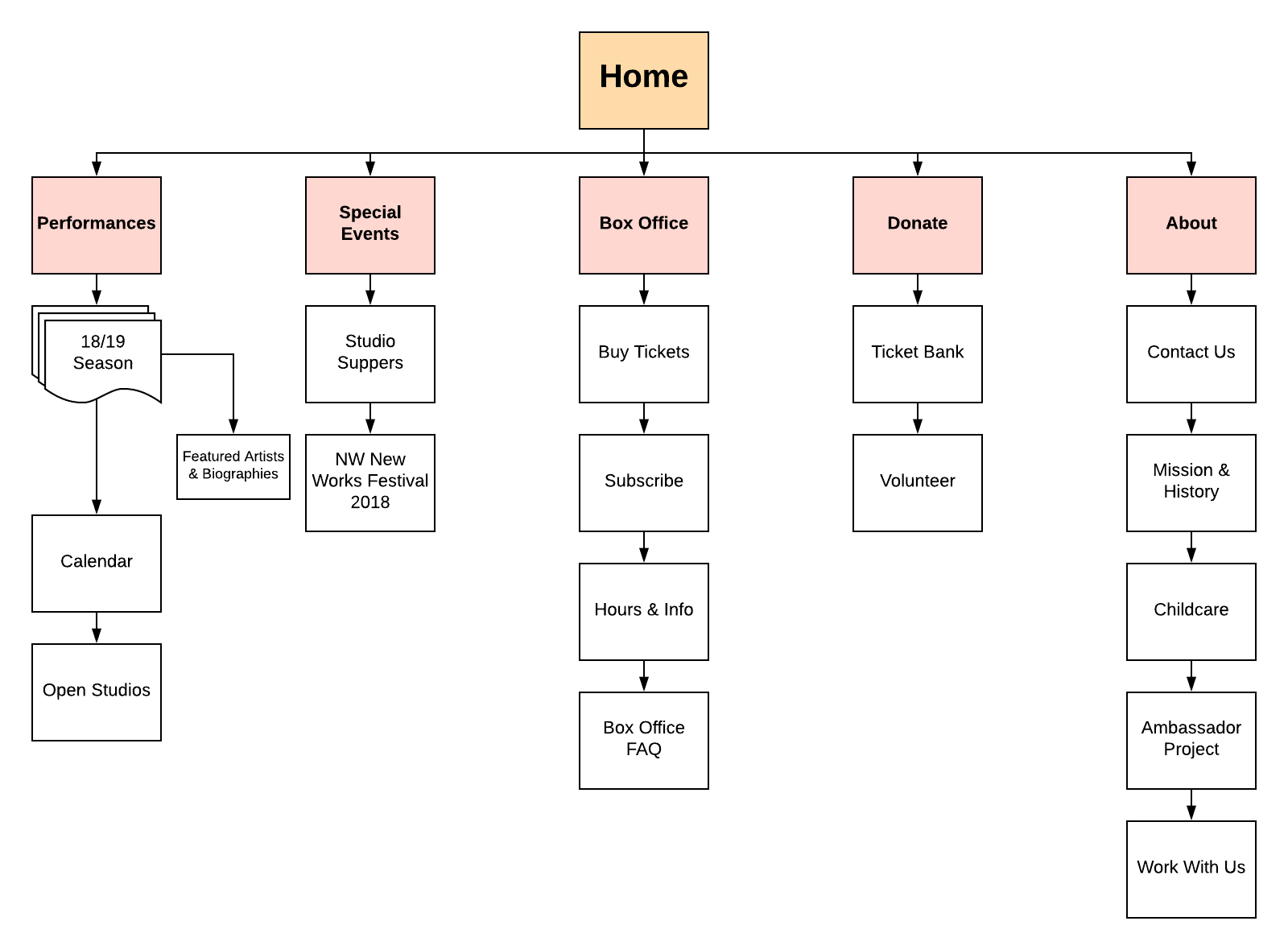 By modifying the site map to emphasize special events, users will be able to easily view them and learn more about them. I simplified the menu by removing the subsections that weren't big enough to have their own separate section. The Box office section reduced to four subsections, which makes it easier for users to find and select the "Buy Tickets" link.

The Studio Suppers section is also much more visible in the updated site map, which will draw more users to the page.

Updated Copy - Studio Suppers Landing Page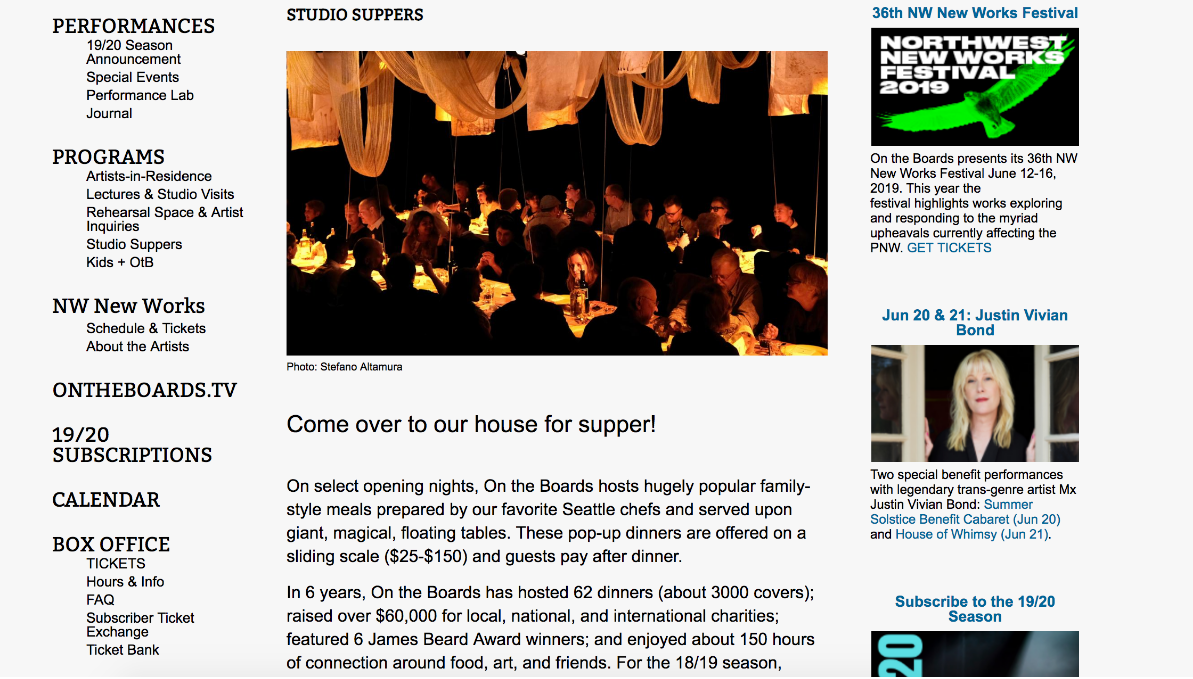 - Cluttered menu

- Too wordy - Not scannable
- No call to action above the fold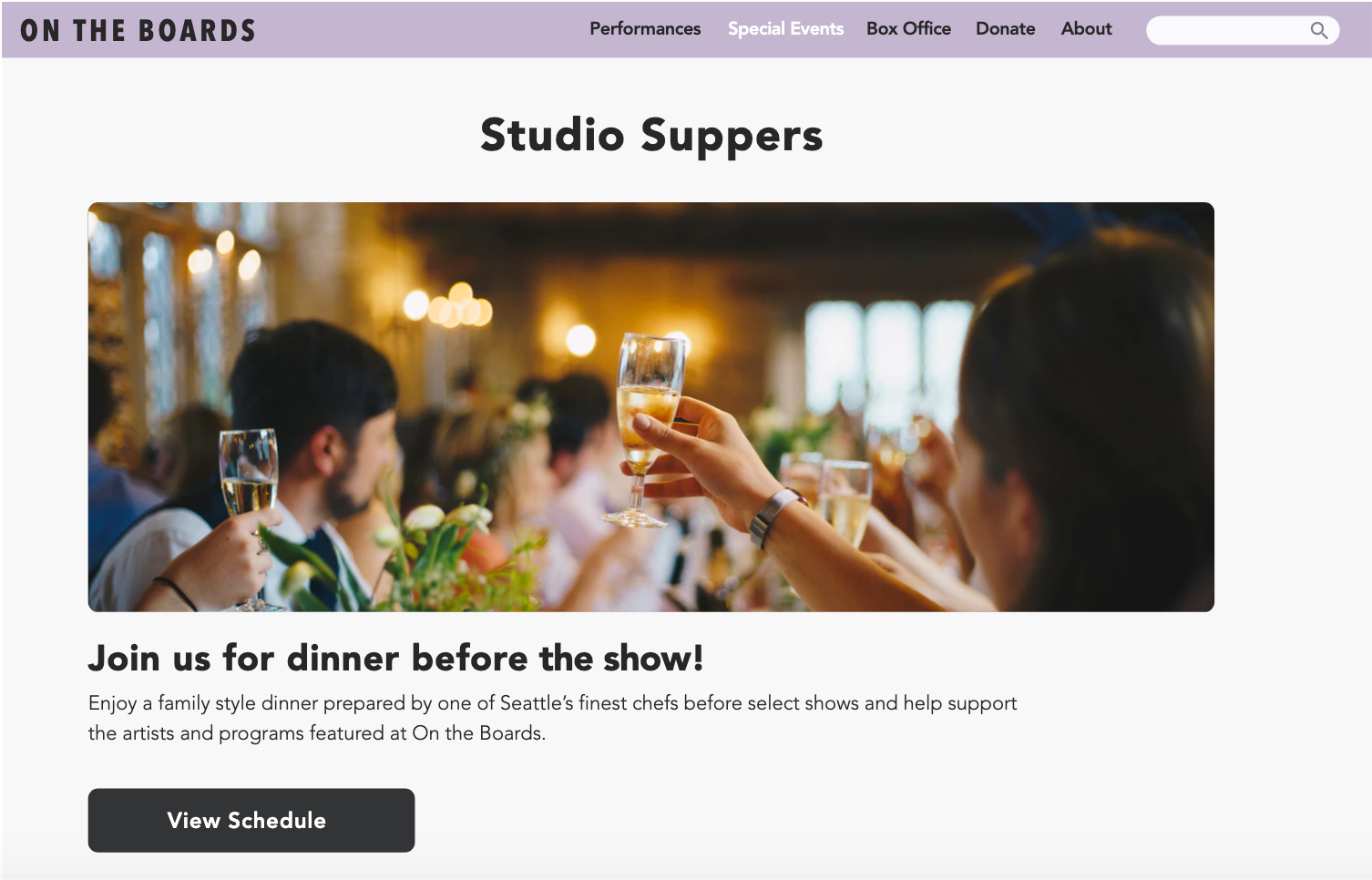 - Simplified menu

- Clear description of event
- Visible call to action
Make a Reservation - Before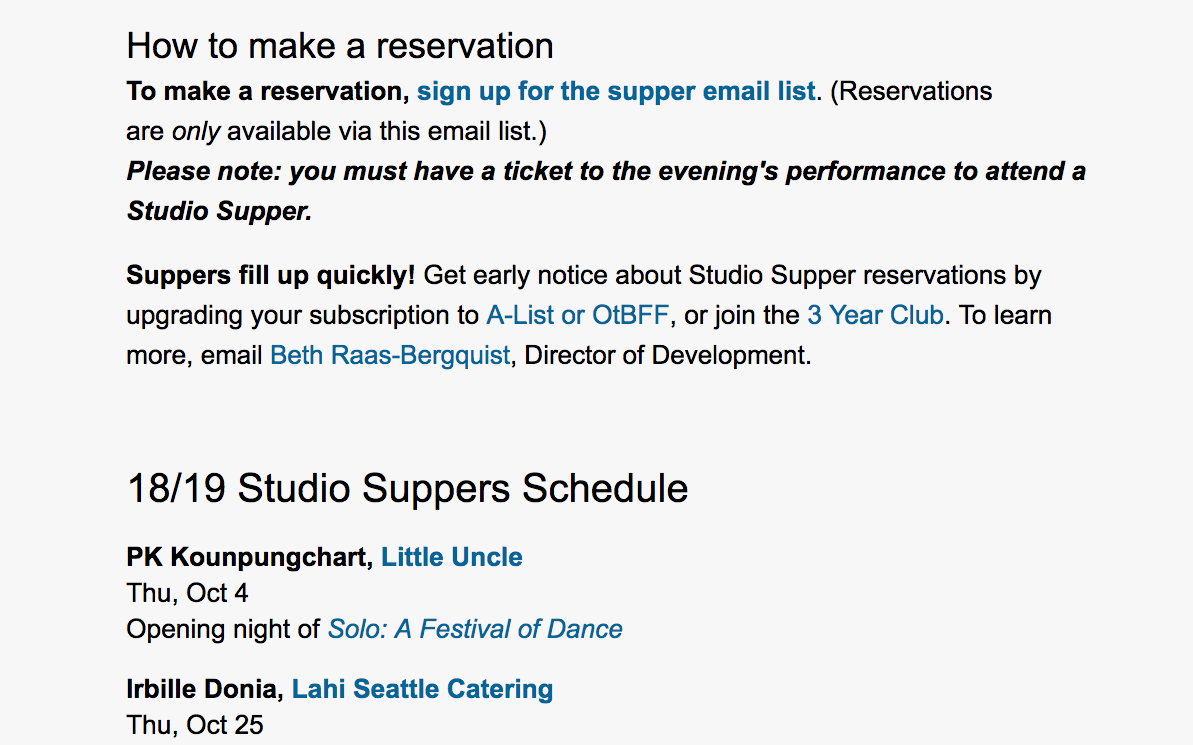 - Confusing instructions - Includes parentheses and a "Please note"
- Too many steps - The user needs to sign up for the email list to make a reservation
- Needs more visual elements
Make a Reservation - After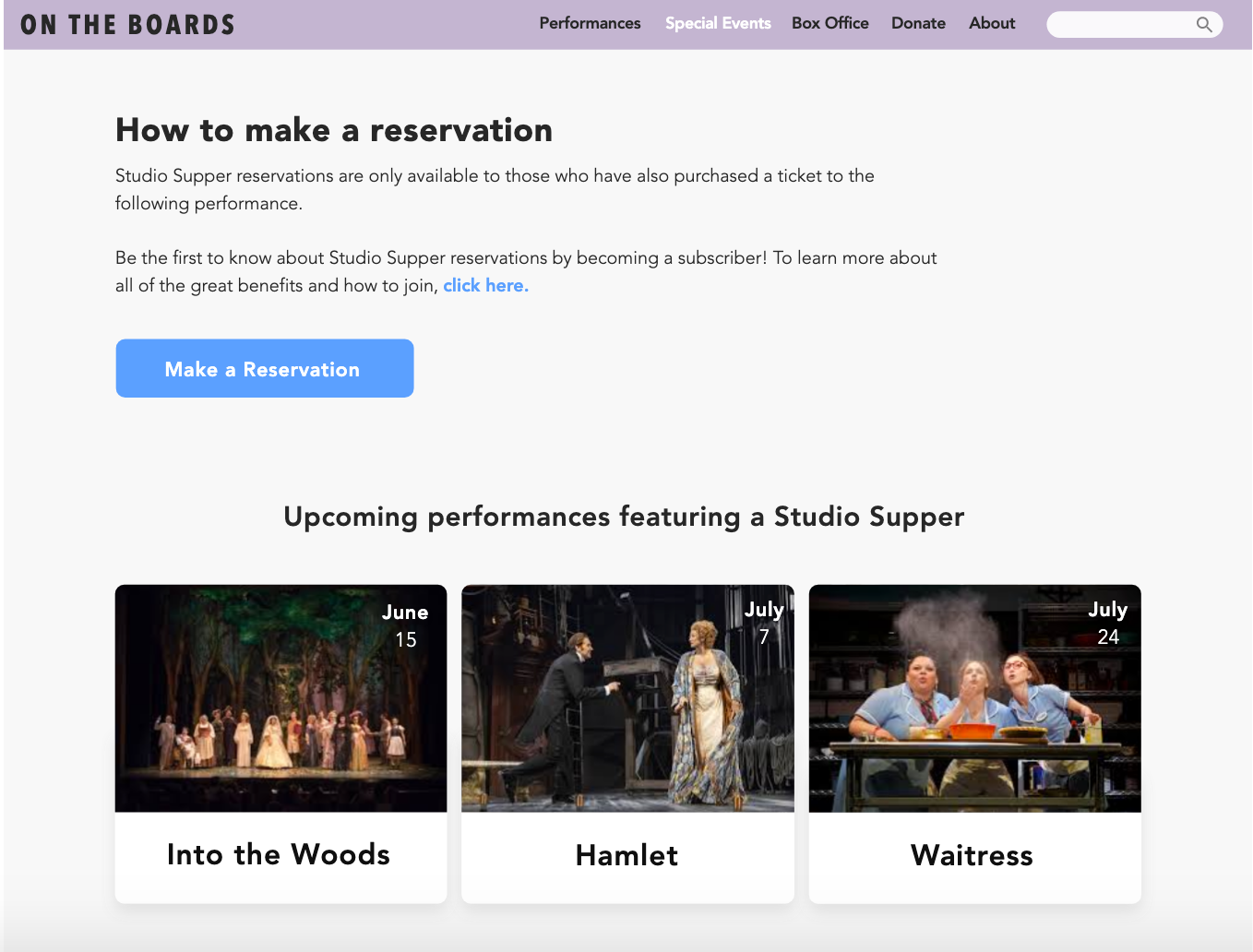 -  Instructions are straightforward
- Clear call to action to make a reservation, with a secondary CTA to become a subscriber
- Information about upcoming performances include images, titles, and dates

- Not enough information under Contact Us

- Copy is not friendly or straightforward

- Added contact days and hours
- Changed "Directions and Parking" to "How to get here" to sound more friendly
- Added a call to action to sign up for the On the Boards newsletter
A challenge I faced with this project was choosing a section to focus the redesign on. I thought an easy way to increase online ticket sales would've been to redesign the 'Buy Ticket' page, but I wanted to challenge myself by focusing on the Studio Suppers page. 

With the Studio Suppers event, people need to have already purchased a ticket to the show following the Supper. I soon discovered how difficult it would be to convince people to buy a ticket to a show based on this page alone. Looking back, I would've liked to redesign the "Buy Ticket" page. Once a user buys a ticket to a performance, they can then head to the Studio Suppers page and purchase a ticket to the event.

By implementing friendly and straightforward copy, and a new content design with clear CTA's, users will be able to learn more about performances and make reservations to Studio Suppers. With an improved information architecture, users will be more likely to buy tickets because they will be able to navigate through the site in a quicker way.